An audiovisual & in-situ installation
Directed by Nico Neefs
Spatial sound by Thomas Vaquié
Bodies driven by Rob Hayden
Premiered @Constellations de Metz Festival / FR
From June 23rd to September 3rd 2022
Next presentation @Bright Brussels, Eglise Saint Servais, Schaerbeek
From February 16th to 19th 2023
«Ces limbes délicieux où les lumières de l'esprit s'éteignent,
où le corps,
délivré de son tyran,
s'abandonne aux joies délirantes de la liberté.»
(Balzac, Peau chagrin.,1831).
Limbes, c'est l'exploration de la matière temporelle.
Une invitation à la perte de nos repères rationnels,
Rendre le temps tangible, onirique, visible.
C'est remettre en doute nos croyances pour mieux se rapprocher du spirituel,
Une ôde à la simultanéité de nos univers multiples, de nos réalités,
Aux passages, à nos libertés.

FR/
Limbes est une installation vidéo immersive et contemplative.
Elle questionne nos rapports aux temps, aux cycles, à nos présences.
Dans de nombreuses croyances, il est souvent cet endroit où les âmes en transition attendent patiemment l'étape d'après. L'œuvre parle de nos différentes réalités, de nos perceptions des temps, de l'inconnu, elle parle des vies à venir à travers nos perceptions de la mort, en la regardant comme une transformation à venir, un voyage, un échange.
Limbes est le ballet des univers, où les corps multiples lévitent et restent suspendus le temps d'un voyage ou d'une éternité. 
Sorte de polyrythmie visuelle, l'œuvre est en mouvement permanent. 
Inspirée par les techniques de musique générative et des micro-sons, de théories, de pensées et de rêveries sur le temps, chaque entité possède son propre rythme, sa propre temporalité. 
A l'image, les corps lévitent à différentes cadences, tel un ballet suspendu, éternel.
Comment trouver un espace de liberté dans un système contraint?
C'est la question que nous nous sommes posée avec Rob Hayden, qui a assuré la direction du mouvement et la préparation mentale et physique des danseurs. 
Au travers de longues méditations plaçant les différents intervenants dans une sorte de transe, Rob a réussi à libérer les corps de leurs contraintes psychiques et physiques. 
En libérant l'individu de l'ego, le corps de sa condition, le mouvement se débarrasse de ses appréhensions, de ses blocages, créant ainsi l'image de ballets éternels.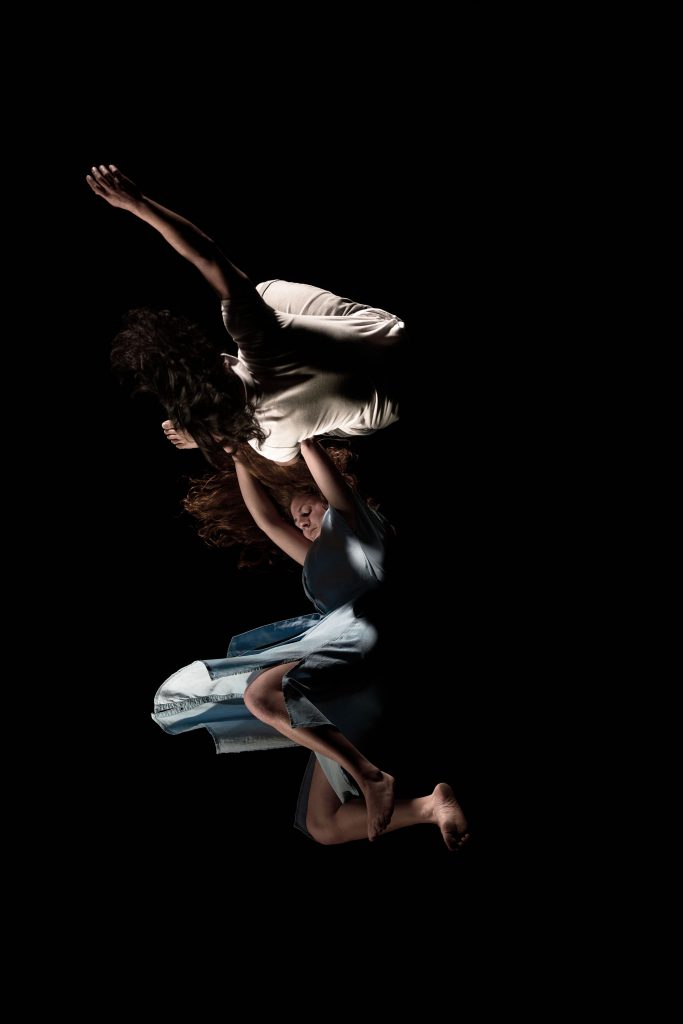 EN/
"Limbes", or Limbo in english is an immersive & contemplative video installation.
It questions our relationship to times, cycles, to our presences.
In many beliefs there is this place, where the souls in transition, patiently await for the next step. The work talks about our different realities, our perception of time, of the unknown, it talks about our lives to come through our perception of death. Seeing what we call an end  as an act of transformation to come, a travel, an exchange.
Limbo is the dance of the universes, where our bodies float in space and stay suspended the time of a trip or for eternity.
Thinked as a visual polyrhythmic, the work is constantly moving, evolving into new shapes.
Inspired by generative music, micro-sound or granular synthesis; theories, thoughts and dreams about time, every entity has his own rhythm, his own temporality.
What we see are levitating bodies at different tempos,a "ballet suspendu", an eternity.
How to find freedom in a dictated, constraint system?
That's the question we asked ourselves together with Rob Hayden, who coordinates the direction of the movement as well as the mental and physical preparation of the dancers.
Through long meditations placing our talents in some sort of trance, Rob managed to free the bodies from their mental and physical constraints.
By unleashing the self from his ego, the body from his condition, the movement get rid of his apprehension, from his blockages, thus the eternal dance can be created.
Credits
Music by : Thomas Vaquié
Executive producer : Nicolas Boritch
Production video : Charles Kinoo
Technical direction : Mael Pinard
Movement : Rob Hayden
Director : Nico Neefs
DOP: Simon Moirot
Dancers : Emily Zuckerman, Magdalena Oettl, Nemo Mass, Christopher King
Rigging : Blue Fx Films, Alexandra Brixy, Saskia Luft
Styling : Florence Neefs, Elodie Pulinckx
Gaffers & Best boy : Charlie Sévère, Anatole Mandroyan
On-set photographer: John Gallardo
Post-production, grading, editing, Max-msp patching: Nico Neefs
In co-production with Constellation de Metz Festival 2022, le Musée de La Cour d'Or, Eurométropole de Metz